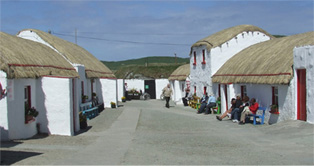 The Famine Village is an outdoor museum that tells the story of life in the area from the Famine back in the 1840s, through the 1900s to the present day.
Different to any other tourist attraction in Ireland the Famine Village depicts life in Ireland as it was, non-commercialised, interdenominational interspersed with humorous anecdotes of Irish life.
Enter restored turf houses, join a traditional Irish Wake, hideout in a Republican Safe House or the Orange Hall.