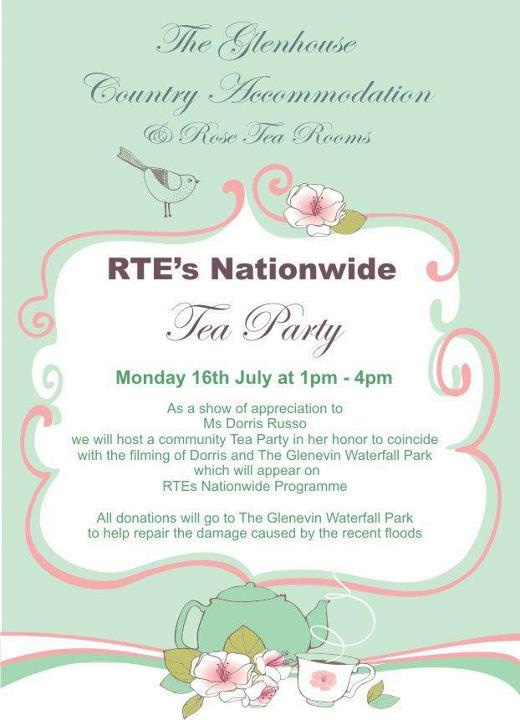 RTE Nationwide will be filming on 16th July from 1pm – 4pm at Glenevin Waterfall.
The event, a tea & coffee afternoon, has been arranged in honour of Ms Doris Russo.
Doris has worked very hard to develop the beautiful Glenevin Waterfall and walks; the story of what brought her to Clonmany, being originally from New Jersey is quite a tale.
As some of you may know the walkway to the waterfall was damaged extensively during the recent heavy rains, with several bridges swept away and much of the paths made impassable.
As the walk relies heavily on the local community for its upkeep and maintenance, we intend to run a fundraising afternoon. We will provide tea/coffee, light refreshments, face painting for the kids, traditional music and some local exhibits in return for vital donations that will go towards restoring the waterfall walk to its full glory.
We would also welcome anyone from the area that would be willing to bequeath some of their time to help man the parking area, help in the setting up of tents or to help serve teas and coffees.  Any local businesses that wish to provide a spot prizes for the raffle that would be greatly appreciated!
We are also thrilled to announce that RTE's Nationwide filming crew will be present on the day to capture the beautiful waterfall and compile a short piece on Doris which will of course highlight her work on the waterfall and the hill walks.
This is an excellent opportunity for us to access national coverage and promote the beautiful natural resources in Inishowen.
So come along and bring a friend for an afternoon of fun and support this excellent cause.