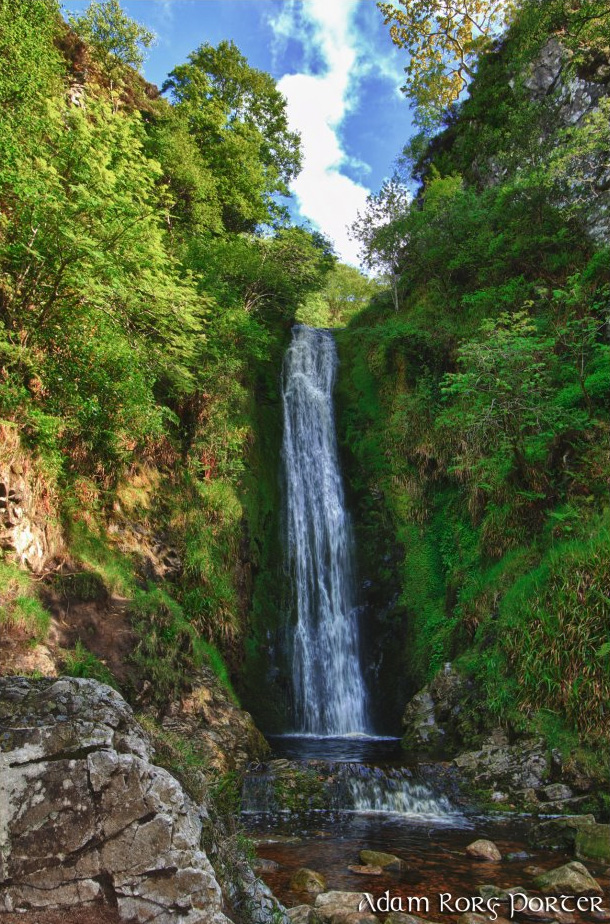 Where better to start than right next door to The Glen House at one of Inishowen's most spectacular natural attractions.
The walkway from the gardens of The Glen House takes you upstream along the meandering stream to Glenevin Waterfall.
Along the way there are a number of picnic areas and vantage pionts with stunning views of the surrounding coast and countryside.
At the end of the walk there is the spectacular Glenevin Waterfall, standing over 40ft tall, it is a sight not to be missed during your stay.
See below for further details about the Glenevin Waterfall and Park.
Overview
A short, but exceptionally rewarding walk through a wooded stream valley. The walk ends at Glenevin Waterfall which is one of Inishowen's most spectacular natural attractions. The walk is virtually level and follows well prepared and maintained gravel paths. There are picnic areas along the route.
Walking Distance: 1 km of path
Approximate Time Needed: 30 mins
Grading: Easy
Height Gain: Negligible
Trail Surface:  Gravel
Markers: Wooden posts

Features
· Close to Clonmany Village
· Very high standard of finish
· Very easy
· Excellent surroundings
· Waterfall at the end
· Good start/finish for more demanding walks to Raghtin More
Landscape
Mature deciduous woodland along path with backdrop of the rugged high ground of Raghtin More.
Trailhead
Split into two parts.
· The main car park is at the start of the trail and has space for xx cars. Access is through a gate from the main road which is opened at particular times.
· An overspill car park has been developed on the opposite side of the road and some 50 meters along it towards Clonmany. This requires crossing a busy road to access the start of the trail.
Elevation & Climbing
Around 100m over a distance of 1 km. The walk feels virtually level.
Trail Surface
· Well prepared gravel paths.
· Timber cross drains.
Points/Features of interest
· Glenevin Waterfall
· Deciduous woodland along route.