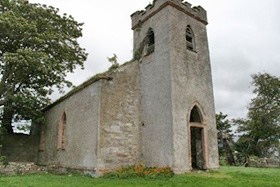 Straid Church near Clonmany exudes an eerie charm. Built in 1772, it was in use until 1925.
The graveyard is an unusual places with ancient graveslabs tiered in rows almost making a crude pavement, most of these are unmarked, and exude a mythical pathos.
There are graves belonging to the Chichester family at the side of the church.
Straid and Clonmany's most famous artefact is the beautiful Miosach Shrine (one of the significant medievl displays in the National Museum in Kildate Street, Dublin).
Originally held by the erenagh family of O'Morrison, it left the parish in 1609.
The presence of such a significant Shrine highlights the importance of the early Christian site, dedicated to St. Colmcille upon which this church now stands.
Content provided by www.inishowenheritage.ie